Podcasts have grown extremely popular in recent years. Becoming a medium for entertainment, wisdom sharing, and business tips. Thus, it comes as no surprise that the Project Management community is embracing the podcast culture with open arms. 
Wondering what project management podcasts you should be listening to? In this article, I discuss why podcasts are so important in our lives today and the podcasts that I think are the best to listen to if you're part of the project management community.
Why podcasts are important?
First things first, why listen to podcasts at all?
"When you talk, you are only repeating what you already know. But if you listen, you may learn something new." – Dalai Lama
Podcasts – probably the easiest way to earn PDU's
Here are 6 reasons why you should listen to podcasts, if you're not already:
Fits perfectly into our busy lives
Podcasts have limitless applications and topics 
Information and entertainment in bite-sized chunks
In-depth analysis of topics
Podcasts cater to audiences needs better
Not yet convinced? How about this, my PMP friends?
As a Project Management Professional (yes, that's a PMP to all you keen beans), we know that you're on the hunt for easy ways to earn some PDU's. Knowing your lives are pretty hectic already, we want to help you gain as many as possible without having to exert too much stress.
If you're a PMP you'll be painfully aware that in order to retain your hard won, PMP certification, the Project Management Institute (PMI) demands that you earn 60 PDU's  (Professional Development Units) every 3 years, or you lose your credentials. 1 PDU equates to 1 hour of education, so you need to complete 20 hours of education every year, to make sure you don't end up having to take a week off work to cram it all in every 3 years!
You can earn PDUs through education, and giving back.
But, how? 
Here's how:
Listening to Project Management Podcasts is a form of education.
Creating your own project management podcast is a way of giving back.
Listening to the right project management podcasts is a great way to earn PDUs, as you can count them as an an educational activity within the category of online, or digital media.
To qualify, the PMI requires the podcasts to be relevant to the PMI Talent Triangle, meaning these podcasts need to cover technical project management, leadership, and strategic business management. PDU worthy podcast needs to meet a specified purpose, and use knowledgeable resources.
So you can't just listen to any old podcast, you'll need to listen to the best project management podcasts around that feature the skill areas, and we've got them for you, right here:
What are the best project management podcasts of 2019 (so far)?
Host Ben Aston applies his expertise in strategic thinking and tactical implementation to curate an insightful project management podcast. Make sure you listen to DPM if you want to augment your project management skillset, learning through interviews and how-to guides.  
---
Dive deeper into the field of project management, by listening to the frequent releases we receive from host Cornelius Fitchner. Tune into the PM podcast to expand your knowledge by listening to the diverse range of topics discussed, whilst also preparing for the PMP exam.
---
Andy Kaufman takes a unique approach in providing advice in the People & Project's Podcast, asserting that motivation and enthusiasm will lead to optimal project management efficiency. Learn how to leverage the most out of your assets, maximizing efficiency while improving leadership skills. 
---
This podcast is perfect for the busy bees, Ricardo Vargas compresses project management knowledge into short podcasts that are easy on the ears. Learn how to execute project management more efficiently, with a focus on technological innovations.  
---
Now don't get it twisted, host Peter Taylor is anything but lazy. He advocates efficiency in the Lazy Project Manager podcast with the motto 'work harder, not smarter'. Take this opportunity not just to learn about better project management, but also to be entertained by this fascinating speaker. 
---
It's no secret that many projects are prone to failure, but instead of fearing change, why not learn from it? That's exactly what Cesar Abeid, the host of PM For the Masses does, outlining both successes and failures in this project management podcast. Improve your project management skills with insights from interviews and special tips.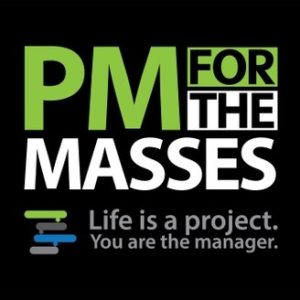 ---
With two variations of podcast styles, Mark Phillipy shares his wisdom on what it takes to make a leading project manager. Listen to his longer podcasts for interview insights with industry leaders, or his own personal experiences in the compressed podcasts.   
Mark Phillipy – www.sensiblepm.com
---
What Do You Think?
 Did we miss out an interesting podcast that you love? Share it with the community of people who manage projects below.